If you're looking for some interesting hat ideas for these fall and winter, take a look at beanies. In my opinion, they are comfy, very easy-to-combine with clothes and other accessories and popular among fashionistas cause everyone can create a trendy outfit using a beanie. And of course don't forget that they are necessary to protect you in cold weather. Depending on your style you can choose a certain type of beanie, for example, cuffless (it's the most common type), cuffed, pom pom, slouchy one, etc. So now let's find out how you can pair your favorite hat with fall and winter clothes.
Sweaters And Jackets
With a beanie you can easily create a casual look or turn any outfit into very cozy and comfy. So mix your slouchy beanie with jeans (skinny or boyfriend distressed, cuffed or crop ones), heeled or flat ankle boots, warm sweater and oversized scarf. You can take an oversized sweater and wear it as a dress with over the knee suede boots, crossbody bag or tote and plaid scarf. For more stylish looks you can change your simple sweater to long cardigan or black female leather jackets, add oversized sunglasses, sneakers or slip on shoes and a contrasting color bag.
1. With cardigan, black shirt, skinny jeans and slip on shoes
2. With jacket, cuffed jeans, white sweater and brown ankle boots
3. With leather jacket, black shirt, jeans and boots
4. With leather jacket, shirt, cuffed jeans and white sneakers
5. With oversized shirt, skinnies, black ankle boots and big bag
6. With oversized sweater, plaid scarf and over the knee suede boots
7. With plaid colored shirt, sweatshirt and jeans
8. With plaid shirt, black pants and white sweatshirt
9. With plaid shirt, printed scarf and jeans
10. With shearling jacket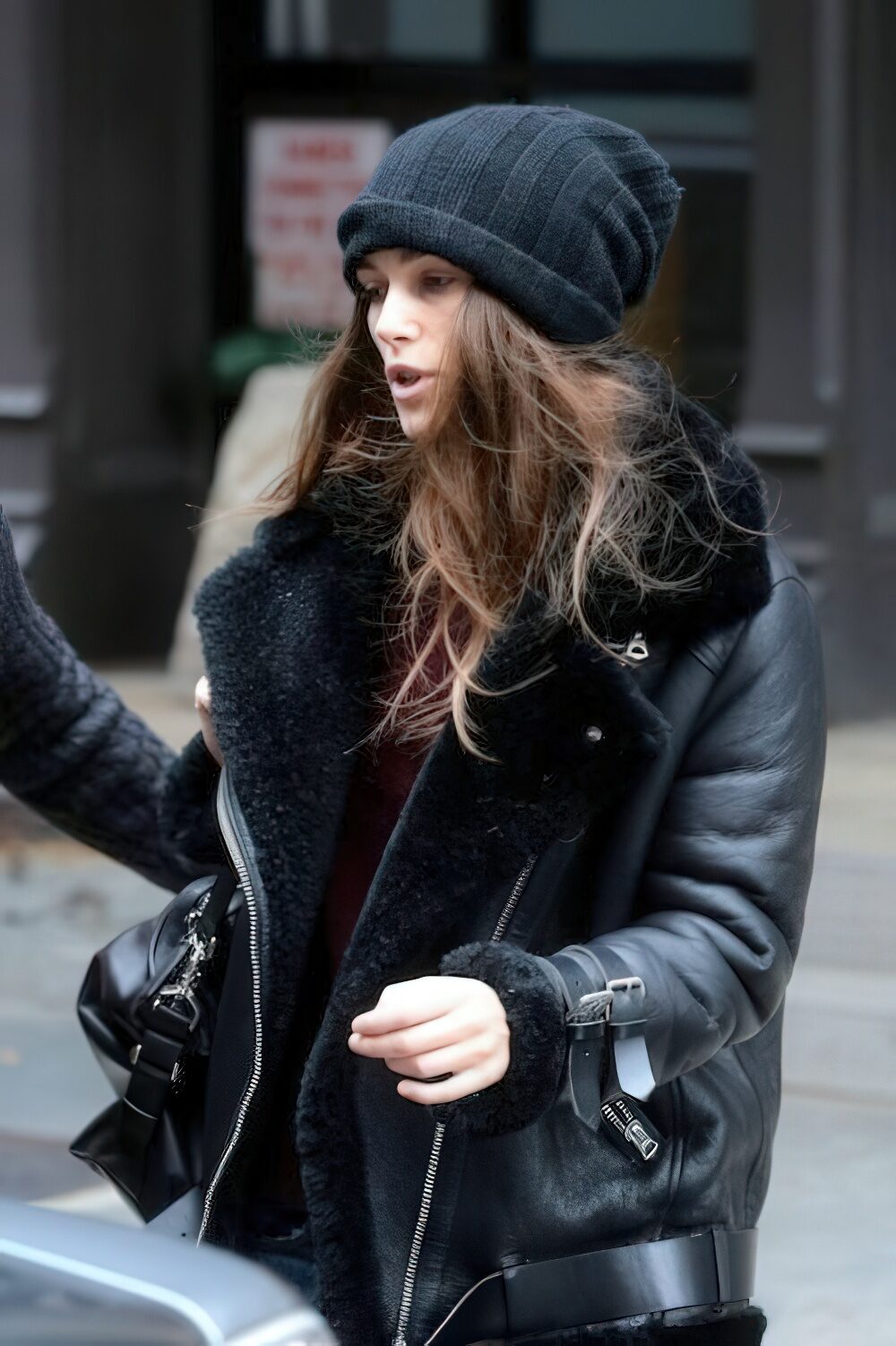 11. Beanie with skater skirt, gray sweater and flat boots is great outfit for work
12. With white blouse, long blazer, distressed jeans and ankle boots
Mini And Midi Coats
No matter what style you have (elegant or casual), you can always add a beanie to your outfit. If your choice is chic midi coat, you can combine it with trousers, a classic button down shirt with a sweater over it, ankle boots and a knitted slouchy beanie. For wearing with a ladies parka you can take a bright color pompom hat and pair it with leggings, mid calf boots and a backpack. One more original idea is a combination various styled beanies with short womens faux fur coats, so you can boldly mix them and make sporty (with sneakers, jeans and shirt) or elegant (with straight trousers or skirt, sweater and heeled boots) outfit.
13. With camel coat and gray scarf
14. With camel coat, skinnies and tote
15. With faux fur knee-length coat, crop jeans and heels
16. With fur short coat, flat boots and jeans
17. With gray sweater, light color jeans, neutral coat and boots
18. With gray sweatshirt, white jeans and camel midi coat
19. With leopard printed coat distressed jeans and black ankle boots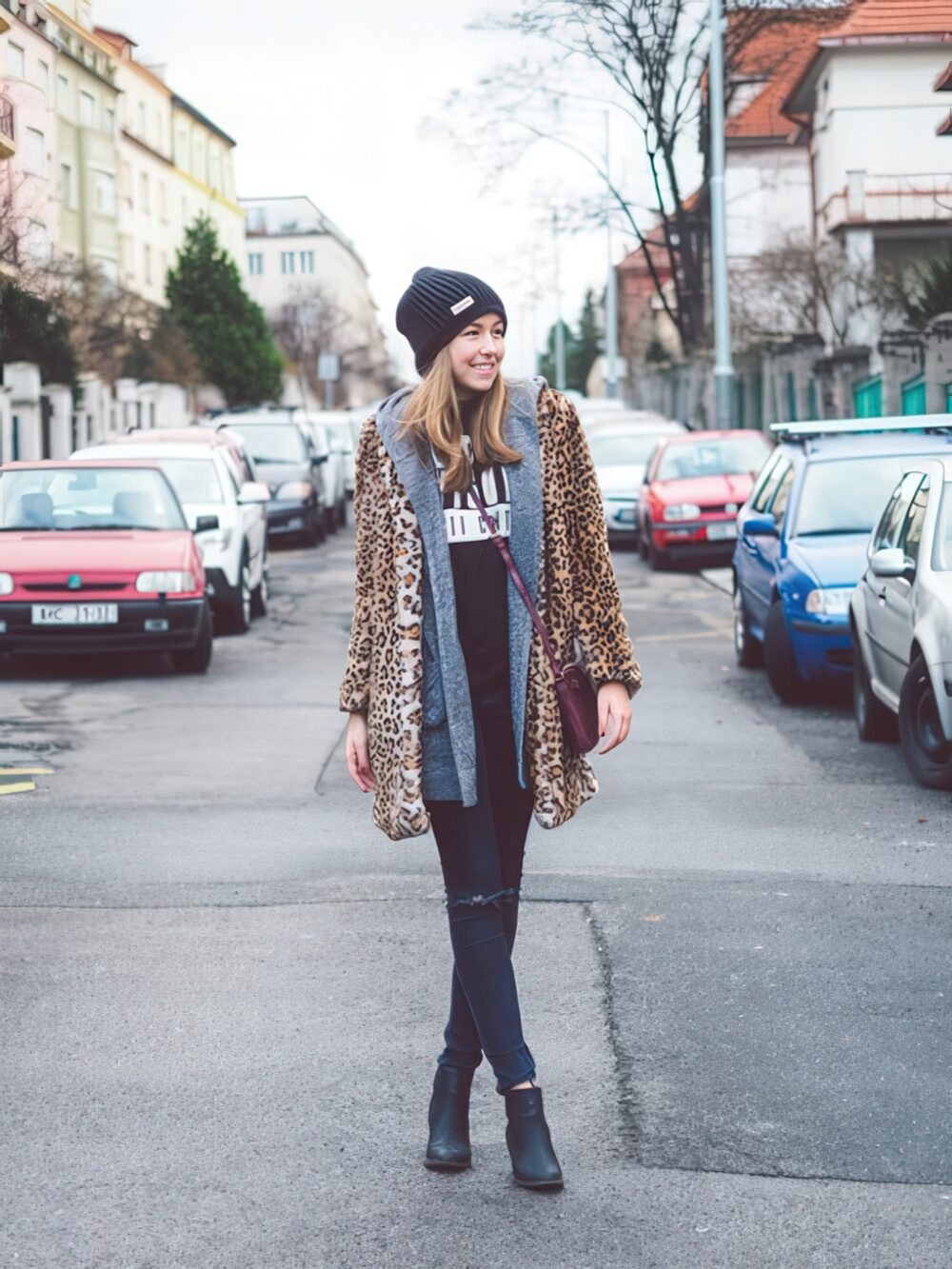 20. With mini black dress, printed tights, mid calf boots and black knee-length long coats for women
21. With mini coat, jeans, brown ankle boots and red bag
22. With parka, leggings and mid calf boots
23. With womens puffer coats, leather pants and ankle boots
24. Stylish fall outfit with converse sneakers, white faux fur coat and black fringe bag
source: styleoholic.com